2024 Ford F-750 Super Duty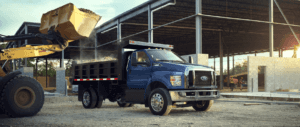 Tough work calls for a tough truck. The 2024 Ford F-750 super duty is built to take on the nitty gritty of hauling and towing while providing adaptable flexibility on the road and on site. At our San Diego, CA Ford dealership, it's a reliable and popular option among businesses looking to tackle their challenges head-on.
Model Overview
The 2024 Ford F-750 Super Duty has a 260-inch wheelbase and a day cab, with two sturdy engine options. The default powertrain is a 7.3-liter V8 gasoline engine with 350 horsepower and 460 lb-ft of torque. Alternatively, you can choose a 6.7-liter Power Stroke® Turbo Diesel engine. Both configurations utilize rear-wheel drive and a six-speed automatic transmission.
Cab and Chassis
We offer regular, super, and crew cab styles for the 2024 Ford F-750 Super Duty. We also pair these cabs with two frame options: the straight-frame model, with a 39.4-inch chassis height and 22.5-inch wheels, or the Pro Loader® model, which has a 33.6-inch chassis and 19.5-inch wheels.
The Pro Loader is typically better suited for industries like construction, where lower frame heights facilitate safety on site while towing heavy equipment.
Towing and Hauling
The capabilities of this new Ford fleet vehicle differ with the engine and frame used. The Pro Loader can accommodate a Gross Vehicle Weight Rating (GVWR) of about 26,000 lbs. The straight frame can handle up to 33,000 lbs using the gas engine, and 37,000 lbs with the diesel engine.
Safety
This Ford truck features Standard Hill Start Assist, which stops you from rolling down a slope when you apply the brakes. Optional features include Adaptive Cruise Control, which changes your speed to conform to a preset of your choice, and the pair of Forward Collision Warning and Automatic Emergency Braking, which stop the vehicle and assist in evasive maneuvers if it detects an accident.
The most unique safety feature is traction control. If it detects a significant differential in wheel rotation speeds, it will redistribute torque or apply the brakes to equalize it. This usually occurs when driving on slippery or icy roads.
Test-Drive the 2024 Ford F-750 Super Duty
To find the 2024 Ford F-750 Super Duty configuration that meets and exceeds your job's requirements, or discuss Ford finance options for your commercial fleet, book a test drive at Kearny Mesa Ford.