The 2024 Ford E-Series Cutaway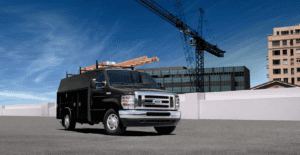 Trucks that see commercial use experience different challenges compared to personal vehicles. Not only do they need the strength to carry heavy loads or multiple trailers, they also need the utility to adapt to specific work industries. The 2024 Ford E-Series Cutaway satisfies both of these criteria with confidence.
Engine and Powertrain
The 2024 Ford E-Series Cutaway has a 7.3-liter V8 gasoline engine, with 325 horsepower and 450 lb-ft of torque. This powerful engine pairs with a six-speed Ford Torqshift® automatic transmission featuring integrated driver-selectable tow/haul mode that adjusts for load conditions.
This engine's variable cam-timing further boosts power at lower speeds employed while towing a trailer or carrying a load, without sacrificing usability at the higher speeds experienced during city driving.
Towing and Hauling
On its own, the 2024 Ford E-Series Cutaway can tow up to 10,000 lbs with the proper equipment. Certain setups can even allow it to handle a maximum Gross Vehicle Weight Rating (GVWR) of 14,500 lbs, a figure that represents the cumulative sum of the vehicle's weight, a payload in the bed, and hitched trailer.
Equipment Compatibility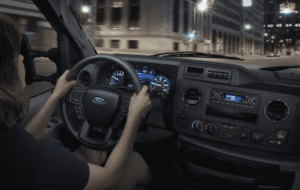 The 2024 Ford E-Series Cutaway is one of the best vehicles at our Ford dealership for commercial use.
Its available upfitter interface module (UIM) allows users to integrate additional functionality into the truck, like operating multiple types of construction equipment. Using a connected computer, the UIM can control third-party machines, like cranes or lift buckets, via a set of switches in the vehicle.
Four available high-capacity upfitter switches further increase the truck's capacity on site: one 10 amp, one 15 amp, and two 30 amps. These switches are integrated directly into the instrument panel, eliminating the need to alter the truck's electrical system when installing accessories.
Packages
This new Ford commercial vehicle adapts to suit your work environment with several package types. The Ambulance Prep Package adds a second battery, support for an additional heater or air conditioner, and 240-amp alternator. The Shuttle Bus Prep Package allows you to alter the interior layout of your RAM truck to match your seating requirements.
Test-Drive the 2024 Ford E-Series Cutaway
To learn how a 2024 Ford E-Series Cutaway can benefit your business, or discuss Ford finance options to purchase one for your next project, book a visit to Kearny Mesa Ford.