EV Charging Station FAQ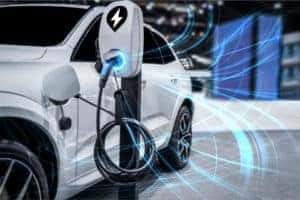 Investing in a hybrid or electric vehicle is a wise choice, but there is a learning curve when using electric car charging for the first time. For this reason, Kearny Mesa Ford is giving you a head start by answering some of the more common questions surrounding electric vehicle (EV) charging stations.
What are the different kinds of EV chargers?
There are three levels of EV chargers.
Level 1 chargers use standard household current and can take a while to charge your vehicle.
Level 2 chargers use 240V alternating current and can charge an EV overnight.
Level 3 chargers use direct current and can get your vehicle to a full charge in less than an hour.
What kind of charger can my vehicle use?
There are three different types of Ford vehicles that use electric motors and dry-cell batteries.
Ford hybrids like the Ford Explorer Hybrid charge their batteries through the engine and regenerative braking. They don't need to be plugged in.
PHEVs like the Ford Escape SE Plug-in Hybrid must be plugged in but can only use 120V or 240V chargers.
EVs like the Ford Mustang Mach-E and Ford F-150 Lightning can use DC Fast Chargers in addition to slower AC chargers.
What are some typical EV charging errors?
One of the most damaging is letting your EV battery run out entirely. Just as you would with a gas-powered car, plan your trip so that you can keep your vehicle sufficiently charged. Don't go too far in the other direction; an 80 percent charge is better than keeping your car at 100 percent.
What does it cost to use an EV charging station?
EV owners will encounter two different fees. A nominal activation fee covers the charging station, and you will also be charged for the electricity used. The latter cost varies but is typically based on a price per kilowatt-hour.
Can I leave my EV plugged in for a long time?
Yes! Your electric vehicle or plug-in hybrid is equipped with features to prevent damage to your car's battery from extended charging time. There is no need to worry about overcharging or overheating your battery.
Where can I find new EVs in San Diego?
Right here at our Ford dealership in San Diego. Not only do we have the vehicles you seek, but we also have the answers, and EV maintenance, that you need. Visit Kearny Mesa Ford for more information on your next EV today!