2022 Ford Bronco Sport
Have you been eyeing the new Ford Bronco, but you wish it was a little smaller? Good news! The 2022 Ford Bronco Sport is the crossover version of the rugged Ford Bronco that makes it the perfect companion for a grocery run and even the occasional mountain climb.
Crossover SUVs are some of the most in-demand vehicles in the market and the 2022 Ford Bronco Sport stands out in this competitive class. Even though some may call this vehicle by the nickname "Baby Bronco", it can still hold its own in a rugged environment.
The head-turning exterior of this vehicle is inspired by its impressive heritage, with a statement-making horizontal grille and iconic round headlights.
Don't miss this new and exciting Ford available at Kearny Mesa Ford. Our certified Ford service center and collision center means your 2022 Ford Bronco Sport is in good hands. Visit our San Diego Ford dealership and take one of our vehicles for a test drive.
2022 Ford Bronco Sport Interior
While much has been said about the exterior styling of the 2022 Ford Bronco Sport, the interior is also thoughtfully designed. The rugged capabilities give way to comfortable and practical interior touches that will make your next adventure fun and memorable.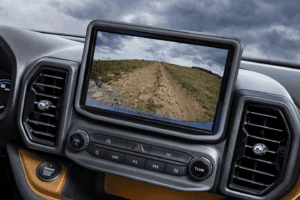 The safari-style roof of this vehicle makes for a roomy and spacious interior with generous head room. The cargo space for the 2022 Ford Bronco measures a total of 65.2 cubic feet for luggage, groceries, camping gear, or even pets with available rubber mats for easy clean-up.
Explore available features like a camp table to serve as a gathering place at your campground or tailgate. Easily equip a bottle opener or upgrade to the Badlands trim package for an AC power outlet, capable of charging phones or powering small appliances.
2022 Ford Bronco Sport Performance
To further illustrate that this vehicle is a crossover version of the Ford Bronco, the 2022 Ford Bronco Sport is made from the same platform as the Ford Escape, another popular small SUV.
The base model is equipped with a 1.5-liter, three-cylinder engine making 181 horsepower. Also available is a slightly more powerful 2.0-liter engine, making 245 horsepower from its four cylinders. Both are equipped with an eight-speed automatic transmission and can still tow about a ton.
Experience the unique fun of driving the 2022 Ford Bronco Sport with our San Diego Ford dealers. You don't want to miss the return of this signature SUV from one of America's favorite brands.