How to Prep for Purchasing a New Car from Our Ford Dealership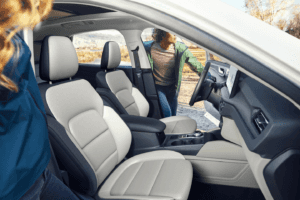 The idea of buying a new car can be intimidating. You have to find the model you want, the best financing, look into warranties and insurance, and even decide what to do with your old car. But there are certain steps you can take before visiting our Ford dealership to make the car buying process easier.
1. Determine Your Financial Health
Your financial health influences your eligibility for our Ford finance offers. Customers with a higher credit score and history of timely payments receive shorter loan terms and lower interest payments.
You can usually check your credit report for free once per year, so use that chance to identify information that could harm your credit score and thus, your loan eligibility. If your credit score is low, you can improve it by paying off debts and automating payments.
2. Calculate Your Budget
There's more to the price of a new Ford vehicle than just its MSRP. Once you find a model, calculate your monthly payment by using a three to five-year loan term, and an interest rate from an online payment calculator, which uses variables like your income and credit history to estimate your monthly interest rate.
Your monthly payments should not exceed 10 percent of your monthly take-home income. After adding in ownership costs like gas and maintenance, that amount should not exceed 15 to 20 percent. The exact threshold varies with your location and cost of living.
3. Consult Consumer Reviews
Descriptions of a car's features and technical specifications can only convey so much information about it. Consumer reviews can reveal details about everyday use, like handling and driver and passenger comfort.
They can also give estimates for the cost of Ford parts and maintenance that reflect real-world use, and search filters enable you to narrow reviews down to those from your location, to get data more relevant to you.
Begin Your Car Buying Journey at Kearny Mesa Ford
Once you've taken all the necessary steps toward securing your ideal model and financing, visit Kearny Mesa Ford to book a test drive, and experience your chosen car for yourself. Look into our Ford specials to see how you can easily get into new Ford vehicles.