Genuine Ford Parts FAQ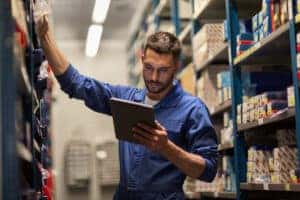 Modern cars and SUVs contain over 30,000 parts. That's a lot of Ford parts to keep track of and sometimes to replace. Luckily for you, Kearny Mesa Ford has the essentials in stock, so we're just as good at finding replacement parts for your old Ford Focus as we are at answering your questions about OEM parts.
Why buy Ford parts from Kearny Mesa Ford instead of a big box store?
Several auto parts stores have as many aftermarket parts as genuine Ford parts. Many also have in-house brands sold at high markups, so guess what they'll suggest? However, these parts' quality isn't always the same, and you're not saving money when you have to replace something twice.
Will using aftermarket parts void my warranty?
The short answer is "not exactly." For instance, using a third-party oil filter won't cause your warranty to go up in smoke. But if that filter doesn't work, your engine fails, and your car goes up in smoke, you're on your own; repairs stemming from third-party parts and services are not covered.
Does my car need synthetic oil?
Synthetic oil isn't recommended for all cars. When you visit our Ford service center, our technicians will ensure your car, truck, or SUV gets what it needs based on age, driving habits, and the engine's condition.
Do I need summer tires in California, or can I get away with all-season tires?
Tires come in a staggering number of designs and formulations. Most cars ship with all-season tires for a good reason: they handle a little of everything well. However, our Ford tire center has you covered if you need tires for specific applications like towing or off-roading.
My car starts just fine. Do I really need to replace the battery?
Ford car batteries last five to six years if you maintain them correctly. However, there's a catch: California heat leads to evaporative wear and self-discharge, so yours may need replacement before then. Don't run the risk of a car that won't start; replace the battery if it's getting old.
Is there any way I can save on Ford parts?
Keep an eye on our website. Our Ford parts specials are a great way to save on the essentials. If a good deal comes up – a promotion on tires or brakes, for instance – stop in because there's absolutely nothing wrong with having parts replaced or serviced early.
What if the parts I need aren't in stock?
Older parts and obscure accessories aren't always in stock. If we don't have what you need, we'll order it for you, and our technicians can install it once it arrives.
Ford Parts and Service in San Diego, CA
Ford cars are legendary for their toughness and reliability. They give you their best, so return the favor with OEM parts and qualified service from Kearny Mesa Ford!